Fishing Map Shop & Downloadable Maps
Purchase Fishing Hot Spots Maps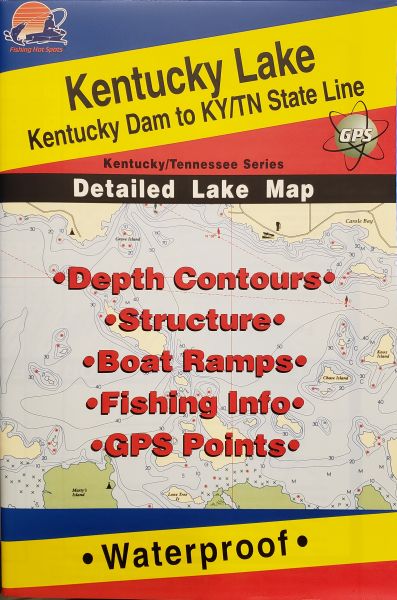 Kentucky Lake Fishing Map - North
From Kentucky Dam to KY/TN Line
Produced by Fishing Hot Spots
$14.99
FREE Shipping!*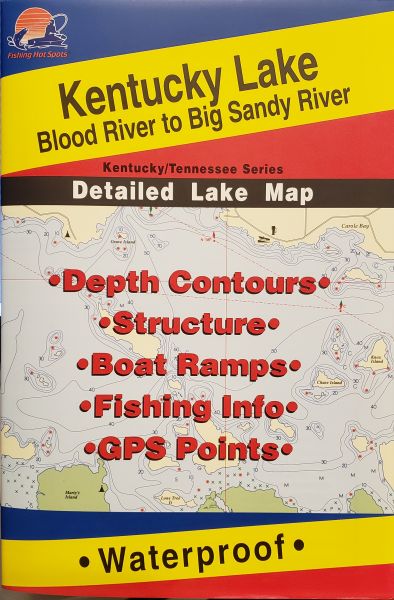 Kentucky Lake Fishing Map - Central
From Blood River to Big Sandy
Produced by Fishing Hot Spots
$14.99
FREE Shipping!*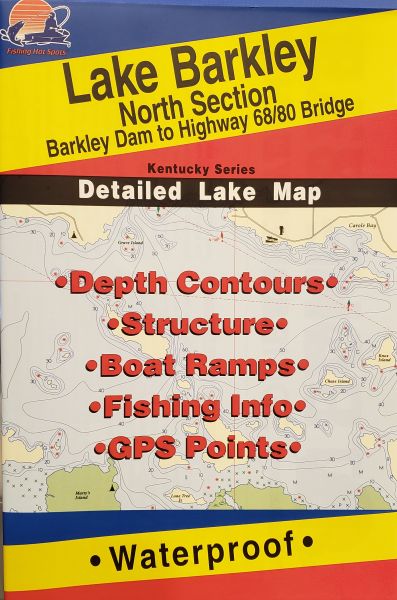 Lake Barkley Fishing Map - North
From Barkley Dam to US 68 Bridge
Produced by Fishing Hot Spots
$14.99
FREE Shipping!*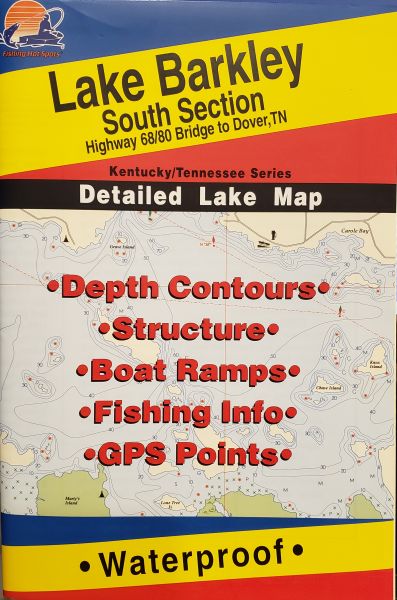 Lake Barkley Fishing Map - South
From US 68 Bridge to Dover
Produced by Fishing Hot Spots
$14.99
FREE Shipping!*
All Fishing Hot Spots Maps feature an accurate, detailed lake map plus loads of information that will help you find fish quickly. Depth contours, structure, boat landings, marinas, weedbeds and flooded timber are just some of the features commonly shown. Whether you're pursuing bass, panfish, or cats, FHS Maps have all the details you'll need to eliminate unproductive water and head straight for the action.
To create accurate, easy-to-read maps, FHS began producing maps using computer drafting and imaging processes in the early 1990's. The results have been amazing. Most of our maps are now digital and give you a clean, crisp view of what lies beneath the water's surface. Our new maps also allow anglers to take full advantage of the latest satellite positioning systems by including latitude/longitude grids and GPS coordinates of key locations around the lake.
Kentucky Lake & Lake Barkley Map Features
Depth Contours
Structure
Boat Ramps
Fishing Tips & Techniques
Lat / Long Grids
GPS Coordinates
Large Scale
Easy to Read
Waterproof
Tear Resistant
Email us if you have any questions or if you experience trouble ordering.
*Free Shipping is USPS First Class with tracking. We are not responsible for lost mail, will not issue refunds for lost or damaged mail and will not ship replacements. If you prefer guaranteed delivery with USPS Priority Mail, choose Priority mail when checking out. A flat rate of $4.95 per order will be charged for Priority shipping.
Free Land Between The Lakes Maps
Download and print these Land Between The Lakes (LBL) maps (PDF files).
LBL Campground Maps
Trail Maps
General LBL Maps
Free Downloadable Navigation Charts
The most recent navigation charts of Kentucky Lake (the Tennessee River) and Lake Barkley (the Cumberland River) are provided by the US Army Corps of Engineers.
Tennessee River - Below Barkley Dam
Kentucky Lake
Cumberland River - Below Barkley Dam
Lake Barkley
Historical Maps
For all those history buffs, Four Rivers Explorer has an archive of historical maps.